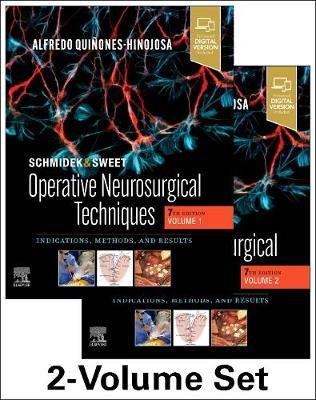 Alfredo Quinones-Hinojosa
Schmidek and Sweet has been an indispensable reference for neurosurgery training and practice for nearly 50 years, and the 7th Edition of Operative Neurosurgical Techniques continues this tradition of excellence. A new editorial board led by editor-in-chief Dr. Alfredo Quinones-Hinojosa, along with more than 330 internationally acclaimed contributors, ensures that readers stay fully up to date with rapid changes in the field. New chapters, surgical videos, and quick-reference features throughout make this edition a must-have resource for expert procedural guidance for today's practitioners.
Discusses indications, operative techniques, complications, and results for nearly every routine and specialized procedure for brain, spinal, and peripheral nerve problems in adult patients.
Covers the latest techniques and knowledge in deep brain stimulation for epilepsy, movement disorders, dystonia, and psychiatric disorders; surgical management of blast injuries; invasive electrophysiology in functional neurosurgery; and interventional management of cerebral aneurysms and arterio-venous malformations.
Includes new chapters on bypass techniques in vascular disease, previously coiled aneurysms, CSF diversion procedures, surgical management of posterior fossa cystic and membranous obstruction, laser-ablation techniques, and brain stem tumors.
Explores hot topics such as wide-awake surgery and ventriculo-peritoneal, ventriculoatrial and ventriculo-pleural shunts.
Provides detailed visual guidance with more than 1,600 full-color illustrations and 50 procedural videos.
Contains quick-reference boxes with surgical pearls and complications.
Enhanced eBook version included with purchase. Your enhanced eBook allows you to access all of the text, figures, and references from the book on a variety of devices.

Download