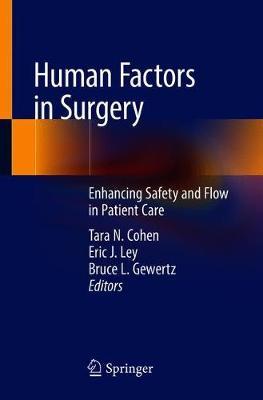 Tara N. Cohen, Eric J. Ley, Bruce L. Gewertz
This book delivers a comprehensive review of human factors principles as they relate to surgical care inside and outside of the operating theatre. It provides multi-dimensional human-centered insights from the viewpoint of academic surgeons and experts in human factors engineering to improve workflow, treatment time, and outcomes. To guide the reader, the book begins broadly with Human Factors Principles for Surgery then narrows to a discussion of surgical specialties and scenarios. Each chapter follows the following structure: (1) An overview of the topic at hand to provide a reference for readers; (2) a case study or story to illustrate the topic; (3) a discussion of the topic including human factors insights; (4) lessons learned, or personal "pearls" related to improving the specific system described.
Written by experts in the field, Human Factors in Surgery: Enhancing Safety and Flow in Patient Care describes elements of the surgical system and highlights the lessons learned from systems engineering. It serves as a valuable resource for surgeons at any level in their training that wish to improve their practice.

Download