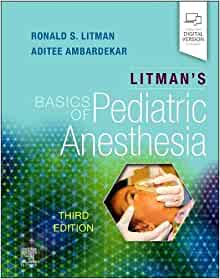 Ronald S. Litman DO ML
Written in clear, concise language for superb readability, Litman's Basics of Pediatric Anesthesia, 3rd Edition, provides a solid foundation of essential knowledge in this complex field. It covers everything from general pediatric physiology and pharmacology principles through important pediatric diseases; preoperative, intraoperative, and postoperative care; anesthesia for a full range of specific surgical procedures; pain management; and critical care. An excellent resource for learners of pediatric anesthesia, this tightly focused, user-friendly handbook is a well-regarded resource that has been used to train pediatric residents throughout the world.
Covers new topics such as the current research on neurotoxicity and health care disparities in pediatric anesthesia and pain.  

Contains new "Deep Dive" boxes with more detailed information on key topics throughout the book. 

Features a helpful introductory chapter on congenital heart disease. 

Includes carefully chosen seminal articles from the pediatric anesthesia literature. 

Highlights key concepts with photographs, diagrams, and radiographic images in print, as well as videos. 

Ideal for rotations in pediatric anesthesia, board certification or recertification review in pediatric anesthesia, and as a reference for everyday clinical practice. 

Enhanced eBook version included with purchase. Your enhanced eBook allows you to access all of the text, figures, and references from the book on a variety of devices. 
Download