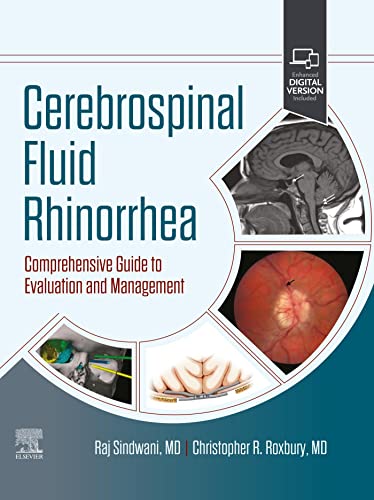 Raj Sindwani
Offering up-to-date, multidisciplinary coverage of this nuanced and evolving field, Cerebrospinal Fluid Rhinorrhea provides a comprehensive overview of the evaluation and diagnosis, as well as the medical and surgical management options, for all causes of cerebrospinal fluid (CSF) rhinorrhea. It covers all aspects of CSF leaks, synthesizing current knowledge on pathophysiology, diagnosis, perioperative care, and operative techniques for this complex group of patients. Leading experts in otolaryngology and neurosurgery, as well as ophthalmology, neurology, and radiology, provide detailed coverage of the distinctions between management of patients with differing etiologies of CSF rhinorrhea, including spontaneous, traumatic/iatrogenic, and tumor-related.
Focuses exclusively on the comprehensive evaluation, and management of patients presenting with CSF leaks from the anterior cranial base, offering a reliable, one-stop resource for experienced clinicians as well as those in training.

Covers the full breadth of cerebrospinal fluid rhinorrhea, with expert discussion of spontaneous CSF leaks, including evolving management techniques for patients with idiopathic intracranial hypertension; traumatic CSF leaks, including advanced management of complex anterior cranial base trauma; and up-to-date techniques for intraoperative skull base reconstruction after tumor resection.

Includes tips and pearls on surgical approaches and postoperative management strategies for this complex and varied patient population.

Features abundant high-definition images of anatomy, radiographic imaging, and intraoperative techniques, as well as videos that highlight intraoperative techniques in patients with spontaneous, traumatic, and tumor-related CSF leaks.

Provides a detailed review of the different laboratory, examination (endoscopic nasal, as well as ophthalmologic) and imaging studies used to evaluate patients with CSF leaks.

Discusses the evaluation and growing medical and procedural management options for patients with idiopathic intracranial hypertension.

Offers state-of-the-art reconstruction options for CSF leaks and complex skull base defects, ranging from the nasoseptal flap and beyond.

Addresses the controversial role of lumbar drains in CSF leak management, as will new and upcoming technological advances in operating room instrumentation.

An eBook version is included with purchase. The eBook allows you to access all of the text, figures and references, with the ability to search, customize your content, make notes and highlights, and have content read aloud.
Download