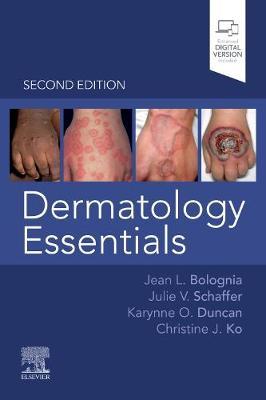 Jean L. Bolognia, Julie V. Schaffer, Karynne O. Duncan, Christine J. Ko
Edited by world authorities Drs. Jean L. Bolognia, Julie V. Schaffer, Karynne O. Duncan, and Christine J. Ko, Dermatology Essentials, 2nd Edition, provides the fast answers you need on every important aspect of dermatology and guidance on their application in your day-to-day practice. Derived from the renowned authoritative reference work Dermatology, 4th Edition, this on-the-go reference distills the essential information needed to quickly diagnose and manage a wide range of dermatologic disorders-without the need for any additional resources. It's an ideal reference for family medicine and internal medicine physicians, nurse practitioners, physician assistants, and other health care professionals who diagnose, treat, and refer patients with dermatological conditions.
Features a highly user-friendly, "easy-in-easy-out" format and a wealth of tables and schematics for instant visual comprehension.
Helps you visualize more of the conditions you see in practice with over 1,800 typical clinical images, illustrations, and line drawings.
Includes numerous practical tables, intuitive artworks, and logical algorithms to help you avoid diagnostic pitfalls.
Expedites decision making with easily recognizable DDx and Rx sections that provide rapid, direct reference to current guidance and treatment recommendations. Downloadable worksheets are also available.
Features unique introductory chapters that cover the basic principles of dermatology, bedside diagnostics, and clinical approach to a fever and rash-extremely helpful information for the beginner.
Enhanced eBook version included with purchase. Your enhanced eBook allows you to access all of the text, figures, and references from the book on a variety of devices.

Download