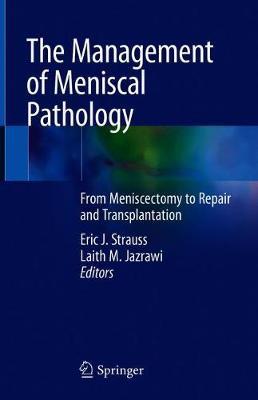 Eric J. Strauss, Laith M. Jazrawi
While the management of meniscal pathology is addressed in many large sports medicine textbooks, this dedicated book on the topic is a major addition to the information currently available for orthopedic surgeons and sports medicine specialists, residents and fellows. As symptomatic meniscal tears remain among the most common musculoskeletal problems that are seen and treated, this up-to-date book on the evaluation and management of meniscal pathology, focused on current techniques and available evidence in the literature, is therefore extremely useful.
To that end, The Management of Meniscal Pathology: From Meniscectomy to Repair and Transplantation is a comprehensive resource reviewing all aspects of managing symptomatic meniscal pathology. It is structured to proceed logically through an understanding of the anatomy and biomechanical importance of the meniscus in normal knee kinematics to the evaluation and treatment of meniscal tears and meniscal insufficiency. The chapters dedicated to the surgical management of meniscal pathology – including partial meniscectomy, meniscus repair, meniscal root repair and meniscal allograft transplantation – include step-by-step descriptions of various operative techniques, including pearls and pitfalls for the reader in addition to classic case examples. Non-operative approaches, as well as novel and emerging strategies and materials, are also highlighted, providing a well-rounded presentation of available techniques and outcomes.

Download