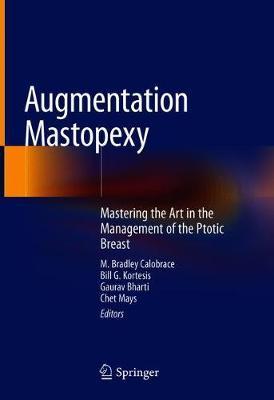 M. Bradley Calobrace, Bill G. Kortesis, Gaurav Bharti, Chet Mays
Breast augmentation paired with mastopexy is often regarded as a challenging procedure since it is essentially two surgeries in one. Because of the complexity of the dual procedure, as well as the careful planning required, many doctors avoid performing these surgeries together, instead preferring their patient to undergo two separate surgeries.These two procedures can be safely performed with methodical planning and intra operative execution. This book provides not only insight and instruction on a variety of mastopexy procedures and accompanying types of breast augmentation, but it will also help the clinician determine the optimal surgery for each individual patient.
Primarily meant for practicing aesthetic plastic surgeons, Augmentation Mastopexy — Mastering the Art in the Management of the Ptotic Breast will also find use among plastic surgery fellows and plastic surgery residents. Unlike some of the competitive literature that briefly touches on the topic or simply provides an overview, the information provided is methodical and comprehensive, providing a wealth of color images to accompany the techniques described. Case studies with long-term follow up are also included, offering not only an understanding of potential pitfalls but a veritable how-to for handling complications when they do arise.

Download