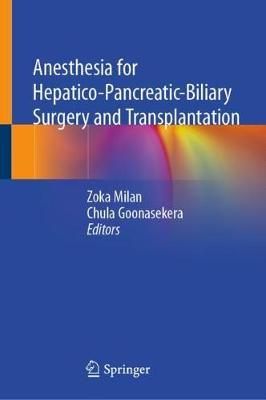 Zoka Milan, Chula Goonasekera
This concise, accessible book covers anesthesia for hepatico-pancreatic-biliary (HPB) surgery and transplantation, based on randomized clinical trials, meta-analyses, case series, reports, and hands-on experience. The anatomy, physiology, pathophysiology and clinical consequences are discussed, and the close ties between HPB resection and transplant anesthesia are explored. The content reflects current real-world practice, as liver and pancreatic transplant surgeries have substantially improved in terms of blood-loss reduction, fast tracking and reduced risk. The book also addresses anesthetic aspects in connection with the recently introduced and rapidly expanding practice of laparoscopic surgery; with enhanced recovery; and with pancreatic surgery.
Anesthesia for Hepatico-Pancreatic-Biliary Surgery and Transplantation is intended for aspiring HPB and transplant anesthetists, anesthesia trainees, and consultants with experience in HPB anesthesia who want to see whether or not they're up to date on the current standards.

Download