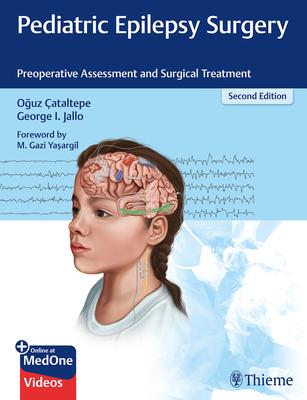 Oguz Cataltepe, George Jallo
The definitive guide to surgical management of epilepsy in pediatric patients
This fully revised and updated second edition of Pediatric Epilepsy Surgery, edited by internationally renowned pediatric neurosurgeons and epilepsy surgery experts O uz Cataltepe and George Jallo, fills a void in the literature, encompassing the full spectrum of topics related to the surgical treatment of intractable epilepsy and seizures in children. The prodigiously illustrated book and its accompanying videos feature contributions from distinguished specialists in several different countries across a wide range of disciplines.
From epidemiology, genetics, pathology, preoperative electrophysiological assessment and neuroimaging to state-of-the-art surgical approaches, this remarkable resource covers the full depth and breadth of surgical management of pediatric epilepsy. Topics include awake anesthesia, intracranial stimulation and mapping techniques, temporal and extratemporal epilepsy surgery techniques, insular, multilobar and hemispheric surgery approaches, and diverse disconnection, neuromodulation, and ablative procedures. Insights are provided on postoperative issues including seizure control, neuropsychological and psychosocial outcomes, surgical failure and re-operation, and much more.
Key Features
A review of topographic anatomy of the cerebral cortex and white matter with numerous illustrations provides enhanced understanding of eloquent anatomy.
Discussion of cutting-edge techniques such as stereo-electroencephalography, multi-modality imaging and tractography, endoscopic and laser ablation approaches in hypothalamic hamartomas, peri-insular quadrantotomy, and various hemispherotomy approaches.
Overview of common cortical stimulation and mapping techniques including magnetic and electrical stimulation modalities, functional MRI, and the WADA test.
13 videos demonstrate seizure semiology, stimulation, awake surgery, hemispherotomy, amygdalohippocampectomy, and endoscopic corpus callosotomy.
This state-of-the-art resource is a must-have for epilepsy surgeons and epileptologists. It will also greatly benefit neurosurgeons, neurologists, clinical neuropsychologists, electrophysiologists, neuroradiologists, residents, fellows, and medical students involved in the assessment and surgical management of epilepsy in pediatric patients.
This book includes complimentary access to a digital copy on https://medone.thieme.com.

Download