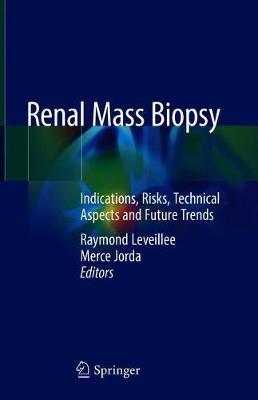 Raymond J. Leveillee, Merce Jorda
This text presents a comprehensive and state-of-the-art approach to renal mass biopsy, and reviews current techniques for obtaining samples, proper tissues processing, indications for biopsy, and treatment outcomes. Sections address preliminary issues faced by urologists, pathologists, interventional radiologists, oncologists, and nephrologists who may be initially reconsidering the role for RMB including clinical decision making, financial considerations, misconceptions, sampling errors, and understanding limitations. Basic techniques and set-up, navigational tools, and tips and tricks to maximize sampling and avoid complications is also included. Sections also address patient selection, pre-biopsy considerations, technical aspects of the most common techniques and equipment, and image guidance systems. Pathological considerations include role of fine needle aspirations, touch preparation, core biopsies, immunohistochemistry, and classification schemata. The text concludes with chapters on future directions and improvements in diagnostic imaging, future developments in optical biopsies (confocal microscopy), and ancillary studies on renal masses.
Written by experts in the field of urology and pathology, Renal Mass Biopsy is your go to resource for techniques and outcomes for the treatment of renal masses.

Download