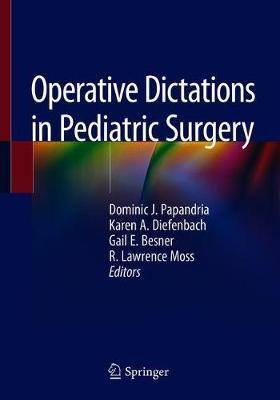 Dominic J. Papandria, Gail E. Besner, R. Lawrence Moss, Karen A. Diefenbach
This book provides pediatric surgeons with a comprehensive, up-to-date compilation of surgical and endoscopic procedures in the form of operative templates and explanatory text to orient learners to the pertinent details and technical variations of the operation. Each chapter includes procedure-specific indications and risks that are relevant to the consent process. Chapters are written by experts in their fields that represent eight distinct surgical subspecialties. Appropriate emphasis is placed on minimally-invasive approaches to portray contemporary practice whenever possible. The result reflects the authors' experiences while still addressing common technical variations to ensure that each chapter is broadly reflective of clinical practice.
Operative Dictations in Pediatric Surgery is designed as a concise guide to the pediatric surgical trainee and practicing surgeon alike who care for children across the surgical spectrum.

Download