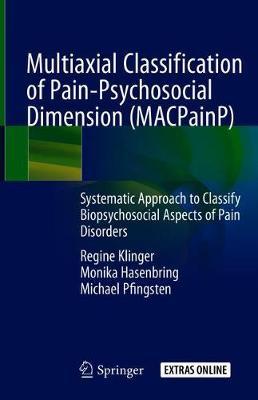 Regine Klinger, Monika Hasenbring, Michael Pfingsten
This book offers a diagnostic tool for physicians and psychologists who want to systematically document pain within a multimodal structure. MACPainP (multiaxial classification of pain-psychosocial dimension) is a systematic, comprehensive and clinically oriented diagnostic instrument for evaluating pain-related disorders, and includes differentiated descriptions to enable syndromes to be systematized and diagnoses compared. MACPainP can be used as a professional add-on for the International Classification of Diseases ICD-10 as well as the upcoming pain classification ICD-11, released by WHO.
This clearly structured book provides an easy introduction to the biopsychological aspects of pain disorders, to allow a nuanced approach to the psychological diagnosis of pain patients. It discusses possible comorbidities (e.g. depressive disorders, anxiety disorders) as well as concrete behavior-related steps for pain-related psychological and medical treatments. An essential reference for physicians and psychologists in the field of pain therapy, it is part of the learning European Pain Federation Curriculum (EFIC) of pain therapists.

Download