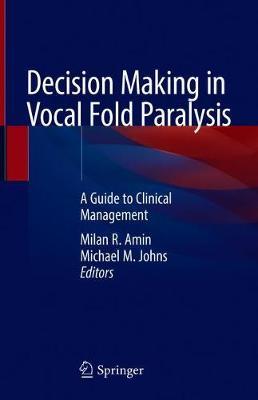 Milan R. Amin, Michael M. Johns
This guide brings thought leaders and master clinicians together to share their wisdom and expertise regarding clinical decisions surrounding unilateral and bilateral vocal fold paralysis. Designed as a what- to-do and why as opposed to a how-to guide, the authors detail the reasoning process from work up, through intervention, to post-treatment decision making.
The text is organized around decision points in the management of vocal fold paralysis such as decisions in regard to timing, intervention, implants, reinnervation, drugs, voice therapy, and post-operative care. Individual chapters focus on specific steps in the process of evaluation and treatment, explore the decisions that can and should be made, and provide answers and direction for the reader. Authors explain the issues around the decision point and use their considerable experience to offer their opinion and as well as the thought process behind it.
Decision Making in Vocal Fold Paralysis will be a useful guide for practitioners that deal with vocal fold paralysis, including otolaryngologists, general surgeons, neurologists, speech language pathologists, primary care physicians, and oncologists.

Download